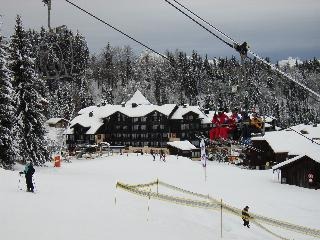 We have 3 apartments available in Les Esserts which is half
way up the mountain from
Morillon at 1100m.

All are immediately adjacent to the ski lifts and ski slopes as you can see from this picutre of our apartment block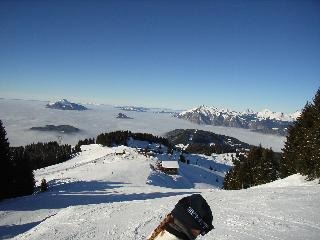 View from top of Morillon with
"islands in the sky"!

Le Grand Massif consists of 5 linked resorts: Flaine, Samoens, Morillon, Les Carroz and Sixt.

265 km of runs for all levels -
Nursery Slopes to BLACKS
and everything in between!

1 Hours' drive from GENEVA

8 Hours' motorway drive from
Channel Ports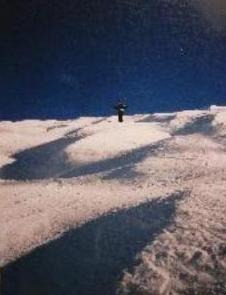 We have been skiing in Morillon and Le Grand
Massif for over 25 years and, despite global
warming, we have always skied!

The area has a good record for snow and in
recent years has built up a good back-up of
artificial snow machines.



Accessed by modern road which is regularly snow ploughed and gritted
Large, free, public car park
Very well stocked Sherpa Supermarket, less than 100m from Apartments
5 Ski Hire shops, one literally on the doorstep
Bakery and Tea Shop
Gift Shop and Newsagent
Several restaurants and cafes in Les Esserts and on the piste
The Pub
Estate agents!
Lift Pass Office
Ski School
Nursery Slope with Creche and Children's ski and play areas

Morillon village in the valley below Les Esserts is accessible by gondola during the day
Morillon has various shops, pharmacy, doctor, pretty church, market on Wednesdays
Across the river is Verchaix with a well-stocked Carrefour Supermarket
Nearby Samoens is a pretty little town with a nice buzz
Samoens has lots of nice shops, bars and restaurants and Ice Skating Rink
Sixt at the end of the valley has spectacular scenery and some ski slopes
There is a lovely long ski run from the top of Flaine down to Sixt
Ski bus back from Sixt through Samoens to Morillon village
Hypermarket in Cluses at the bottom of the valley by Motorway
Flaine is the highest of the 5 linked stations with views to Mont Blanc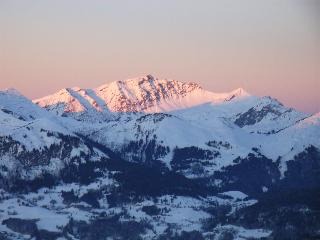 View of Morillon Les Esserts
surrounded by mountains
towards sunset.

The scenery around us is
spectacular!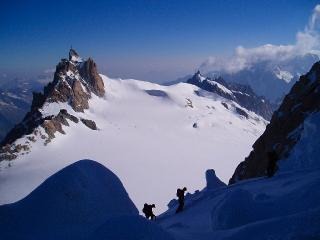 Nearby Aiguille du Midi, the
highest restaurant in Europe,
on Mont Blanc.